Botswana is one of the finest tourist destinations on the African continent.
The Okavango, which originates in the uplands of Angola to the north-west, flows into and then spreads over the sandy spaces of the Kalahari to form an immense and wondrous inland delta of lagoon and labyrinthine channel, palm-fringed island and fertile floodplain.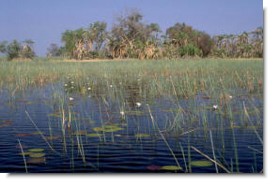 A number of safari lodges and camps have been established in and around this watery wilderness.
This wilderness and the nearby game-rich Moremi Game Reserve and Chobe National Park reserves, offer the visitors the best of several worlds, appealing variously to the game-viewer and bird-watcher, the hunter and the sporting fisherman, the explorer of hidden places and the lover of Africa in its loveliest and least spoilt state.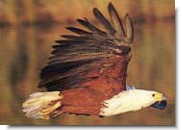 From the calcrete floors and ancient baobabs of the Makgadikgadi Pans to the savannah grasslands of Chobe National Park and the mophane woodland of the Tuli Block, there is a wide variety of wildlife in Botswana.
However it is in the Okavango Delta and Moremi Game Reserve that visitors will find unforgettable beauty. In the lush indigenous forests of the delta and its islands, and along the floodplains spawned by this great marriage of water and sand, more than 400 species of birds flourish.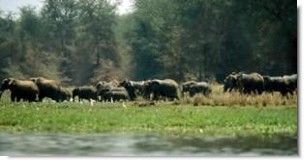 On the mainland and among the islands in the delta, lions, elephants, hyenas, wild dog, buffalo, hippo and crocodiles congregate with a teeming variety of antelope and other smaller animals - warthog, mongoose, spotted genets, monkeys, bushbabies and tree squirrels.