The Zambian Safari Company
Game Parks
- South Luangwa
- North Luangwa
- Lower Zambezi
- Kafue
- Kasanka
- Lochinvar
- Bangweulu
Victoria Falls / Livingstone
Lake Kariba
Lake Tanganyika
Shiwa Ngandu
House boats - Lake Kariba
White Water Rafting
Bungi Jumping
Abseiling
Canoeing Safaris
Jet Boating
River Surf Boarding
Microlighting
Chopper flips over the Falls
Horseback Trails
Elephant Back Trails
Gorge Swinging
River Safaris
Walking Safaris
Game Drives
Night Game Drives
Zambezi River Cruises
Tiger Fishing
Fly Fishing
Kayaking
Currency
The People
Safety
Medical Evacuation
Clothes Laundry
Health
Photography
When to Go
On Safari
Booking Conditions
Information on Malaria
Travel Insurance Advice
Visa Information
South African Airways
British Airways
Air Namibia
Air France
Air Malawi
Lufthanza
Ethiopian
Egypt Air
Emirates
Air India
KLM
PIA



WATERFALLS OF NORTHERN ZAMBIA
THE WATERFALLS TRAIL
10 Waterfalls in 10 DAYS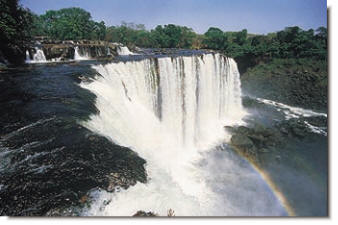 DAY 1
Arrive in Lusaka and transfer to Forest Inn for over night - dinner, bed and breakfast

DAY 2
Nkundalila falls
After early tea and coffee drive to Nkundalila Falls (FALLS ONE), have picnic brunch and just after miday depart for Lake Bangweulu and stay over at Lake Bangweulu with Sun Downer on the beaches of Lake Bangweulu

DAY 3
Musonda falls – Mambilima falls – Ntumbachushi falls
After early tea and toast drive past Mansa and visit Musonda Falls (FALLS TWO), and on to Mambilama Falls (FALLS THREE)and Have pinic lunch or brunch here. Then proceed (going past Chief Mwata Kazembe's capital which we may visit with prior notice) to Ntumbachushi Falls (FALLS FOUR)and camp here for the night on full board basis.

Day 4
Lumangwe falls – Kundabwika falls – Kabweluma falls – Mumbuluma falls – Chimpampe waterfalls
Have breakfast at the falls and spend time at Ntumbachushi water falls then drive onto past Kawambwa and the tea estate to Lumangwe Falls our base for 2 nights. From our base at Lumangwe Falls we visit Lumangwe Falls itself, Kundabwika falls, Kabweluma Falls, Chimpempe falls and Mumbuluma falls (FALLS FIVE TO NINE) Depending on accessibility and the time of the year we may not visit all these water falls.

Day 5
Lumangwe falls – Kundabwika falls – Kabweluma falls – Mumbuluma falls – Chimpampe waterfalls Still in the area continuing with visits to the waterfalls and over night at Lumangwe falls

Day 6
Chishimba Waterfalls
Drive towards Kasama and have picnic lunch enroute at Chishimba Falls (FALLS 10) before proceeding to Lake Tanganyika for over night at Nkupi Lodge

Day 7
Kalambo Waterfalls
Day trip to Kalambo Falls (Falls 11) and return to Lake Tanganyika for the night and for other activities on the lake

Day 8
Chusa Waterfalls
Drive to Shiwa Ngandu for 2 nights stay at Kapishya Hot Springs with a visit to Chusa Falls (Falls 12)

Day 9
S

til

l at Kapishya Hot Springs
Day 10
Drive back to Lusaka for over night
Or clients may be transferred to other tours of interest
Email us for Price or to make a Booking
Click here for more pictures of Zambia's waterfalls
ITINERARIES ON REQUEST
Many other itineraries can be organised at your own request and this can be altered to fit in with flights changes, or a specific need for any particular reason at the time of the time of booking.

Accommodation we can book for you in Zambia
Lusaka
Livingstone

Middle Lodges and Hotels
Budget Lodges /Camp sites
South Luangwa
Lower Zambezi
Kafue
Kaingu Lodge
Puku Pan Safari Lodge
Kasanka
Bangweulu Swamps
Lochinvar
Lake Kariba
Kafue Gorge
Otter Bay Lodge
Lake Tanganyika