Set on a stunning site on the banks of the Mwaleshi River in the heart of the North Luangwa National Park, Kutandala Camp offers the ultimate safari for those who seek truly remote wilderness.

Not many experiences can match the thrill of finding lion on foot or standing face to face with a thousand head of buffalo
Whether you want to track large mammals from Elephant to the endemic Cookson's Wildebeest, or identify some of the three hundred and fifty bird species recorded - on safari at Kutandala you will be in the company of people who know and love this area.

With a capacity for only six guests, exclusivity is guaranteed and you can drive or walk for days and not meet another soul.
Rod and Guz, who own and operate Kutandala Camp, care passionately about what they do and about the restoration work which has brought the North Luangwa back from the brink. In camp Guz manages, against incredible logistical odds, to produce meals of the highest quality and variety.

Rod's depth of knowledge and enthusiasm for all things ecological means that the guiding experience is always informative and fresh.
Kutandala is Zambia's smallest owner-operated camp, catering for only six guests on each safari.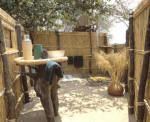 The guest rooms are spread out along the river bank, giving ample space and privacy, and each has an en-suite bathroom with a flush loo and hot shower.

All the rooms have an unrestricted view of the Mwaleshi River and its flood plain throughout the day.

The dining area, bar and library are under the shade of a huge Natal Mahogany, deliberately and delightfully low key. There are iced drinks, but thankfully no generator, and therefore no noise - lighting is provided by rechargeable solar lanterns and hurricane lamps.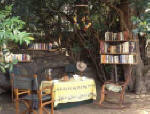 The library is extremely comprehensive with over 250 titles relating to Zambia and the natural history of the area.
With such small groups at any one time, exclusivity and flexibility is the key, with every safari tailored to the interests of the guests.
Book with